2008 – 2015
Spokane Hot Rod Association started out with an idea to identify ourselves when we were at events out of the area. (Like the Woodburn Dragstrip)
I, (Darrin Marion) put it online and created a logo. With the help of family and friends we grew this "idea" and had a lot of fun with it at the car shows and other events we found ourselves at.
We created an Executive Board, worked out some bylaws and went down the path of formalizing everything. We had hopes of creating the fun environment by bringing the clubs and individuals together. We put up a website, got a few clubs involved that wanted to adventure out too and had a lot of fun.
By 2015, we published our first magazine, became a Non-Profit with Washington state and successfully created the Spokane Hot Rod Girls Model Team to help out with the promotional and representation of the association.
2015 – 2020
We hit the car shows running, with some years having 30+ events that we attended. We took 10s of thousands of photos, several videos and published several magazines.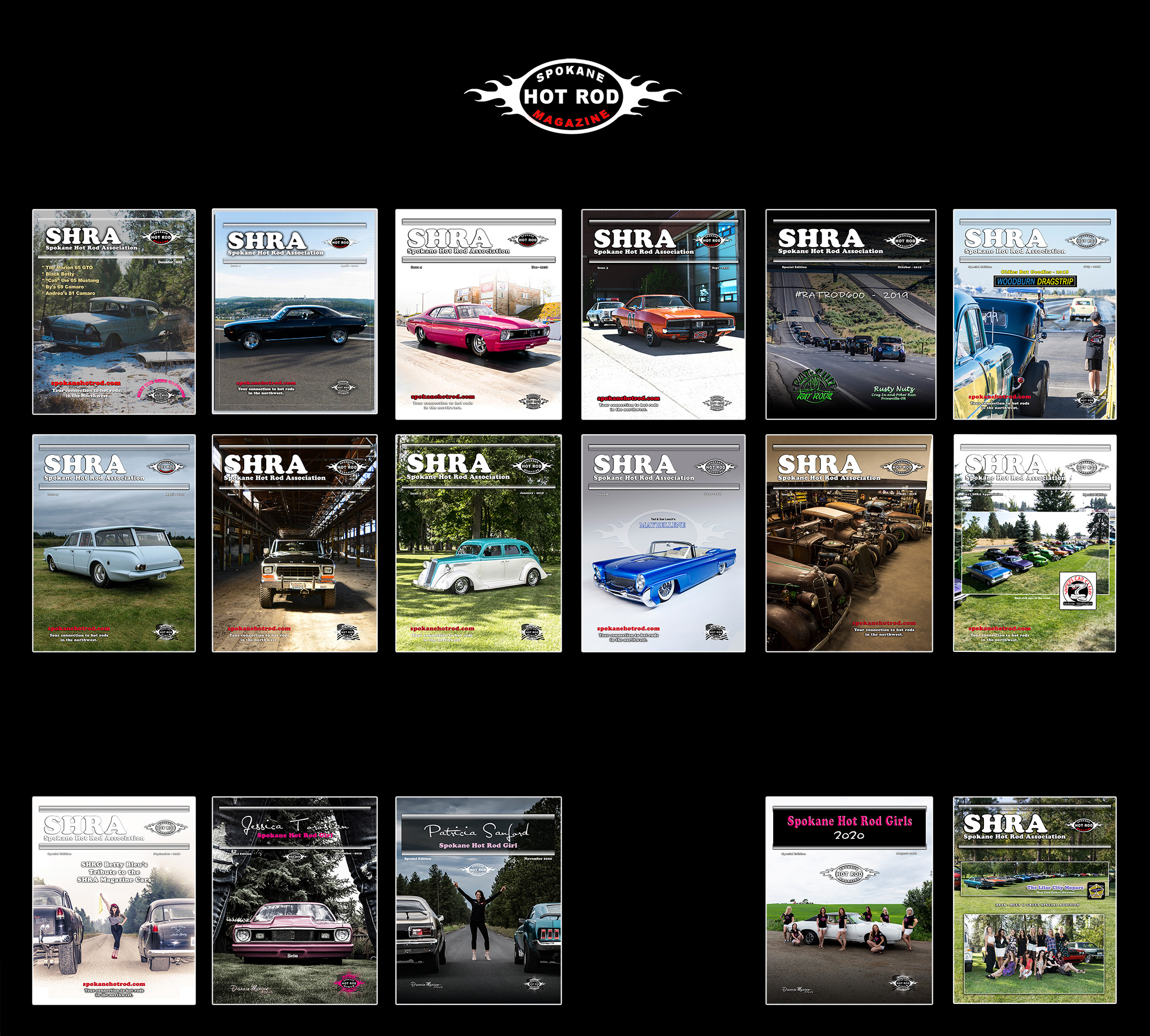 But, like most organizations, we had growing pains and peoples "opinion issues" as to the direction we should go and what we should do. (we'll leave it at that)
Also, running a Model Team was a HUGE undertaking that often made the association put the needs of the "car" world on hold due to the amount of camera and editing time required to maintain the team. We had people come and go with a few of us holding on to the idea of making the SHRA work.
We had 5 years of great times and plenty of heartburn, but there were a ton of great memories and many people we have made friends as well.
2020-2022
In 2020, we all entered the nasty C0VID scene. The whole world came to a stop. We had hopes of putting more things online and bringing in some new SHRGs, but all that was a wash. The car scene was totally dead as most people were not allowed to go anywhere. All the clubs and car people took a huge hit this year.
In 2021, the government slowly opened up a few things. We adventured out in small groups to do a few things, but for the most part, things were still on hold. By now, the SHRA was down to a handful of people and a few SHRGs that wanted to keep volunteering to keep the team "active". With the executive Board in a holding pattern, we kept things quiet holding our breath for the future.
In October of 2021, I signed papers to build the Rock Ranch Studio, a photo studio big enough to shoot cars, have a conference room and host the podcast scene.
In December 2021, I pinched nerves in my spine caused by the type of work I did over the 12 years, causing my world to be tossed up into the air. With me no longer able to attend the mass events out there and the inability to run at the car shows, I was forced to take a step back from everything which ultimately caused the SHRA to come to a grinding slow pace.
In 2022, after talking with each Executive Board member, we have decided to disband the SHRA "non-profit" organization and return the SHRA's name and website ownership back to me as per the bylaws.
Several of us will be taking a non-formal approach to all this. Our hopes are to return the "fun" to what we love and to include those that want to have fun with us.
The Studio is almost up and running. The equipment was purchased by my own money and those of us left will continue to publish a few things as "SHRA PROJECTS" as we choose to do them.
Spokane Hot Rod will return to having fun, doing projects as we wish with no timelines and "have to do" pressure. We will do everything for free (or cost of the project). We refuse to chase the dollar as we think it changes the focus from the cars to the profit needed.
We will be centralizing a lot of the stuff we do in the Rock Ranch Studio, inviting people and clubs out to have fun with us.
Yes, we'll still sponsor the Spokane Hot Rod Girls Model Team, although a lot less formal in approach, but the same idea helping out in the car community as needed.
I hope this helps set some of the rumors straight and sheds some light back into the direction the SHRA is going from here on out. If you have any questions, feel free to reach out to me in a PM or on e-mail.
Thank you all for your support. Let's make 2023 a new beginning with some new twists…
– Darrin Marion
darrinmarion@spokanehotrod.com