Spokane Hot Rod Association
Your connection to hot rods in the Pacific Northwest!

Web Pages
SHRA Magazines
Read our Magazine for free or order a copy here.
SHRA Posters / Calendars
A catalog of our posters from local events.
Event Calendar
Get the latest info on a local hot rod event in the northwest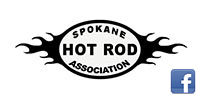 SHRA Facebook Page
For the latest on the association, come see us on our Facebook page.
SHRG Facebook Page
For pictures and the latest with the Hot Rod Girls, check out their Facebook Page.
Membership
SHRA membership levels explained here.
SHRA E-mail List
Want to get e-mails on the latest events we'll be at? Click here to add yourself to the list. (FREE)
Links
SHRA Sponsors
Car Club Directory

SHRA F.A.Q.

SHRA Youtube

SHRA Twitter
SHRA Instagram
Spokane County Raceway

INCCC